Environmental Remediation Services
Our company provides air, groundwater and soil remediation services for a broad range of applications. Our mobile remediation units effectively provide our clients short and long term remediation solutions.  Our mobile remediation fleet including, OZONE Injection, Mobile Multi-Phase Extraction (MMPE), AS/SVE and chemical/nutrient injections systems, assist our clients by providing expedited site clean-up while reducing capital expenditures and eliminating construction expense and inconvenience.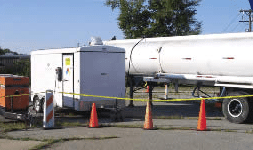 WE OFFER:
OZONE TREATMENTS 
EZ PACKER

Monitoring well, supply well, and surface water sampling.
Air emissions testing.  OZONE Treatment and Monitoring
Soil borings and soil sampling.
Waste-water, pond and lagoon aeration, filtration / sparging services
Irrigation and injection services for chemical, agricultural and petroleum releases.
Carbon, resin and other media exchange services including transport and disposal. Liquid and vapor phase.
Filtration services including fuel, oil, chemical, insecticide, herbicide, fertilizers.
Portable tanks, vessels, equipment tanks, emergency standby tanks.
Nutrient and chemical injection services, oxidizers, surfactants and well flushing / cleaning.
Monitoring, supply, and extraction wellhead/manhole rehabilitation, restoration services and abandonment.
Site surveys and site plans.
Free product recovery system installation and maintenance.
Equipment operation and maintenance, troubleshooting and retrofitting.
Site restoration services.